Men can be fuzzy.
Some insist on buying their own gifts while others simply grudgingly accept gifts. I once overheard my father say he wants nothing for Christmas. My mother got some solace from my best friend's mother who apparently, shared similar sentiments. Gifting men is arduous.
Why is it so hard to gift men?
Psychologists argue "The simplest reason is that men are given more social permission to buy what they want for themselves, so if there is something they want they have probably already bought it for themselves" and this partly explains why finding the most appropriate Christmas gift for your men in 2022 will be a little difficult. Additionally, psychology holds culture and socialization push men to define their self-worth as caregivers to women and children.
In living up to these ideals, men become accustomed to not wanting anything for themselves. Coincidentally, research indicates men are more receptive to gifts rationalised as helping them increase their productivity and role as protectors. That's why gifting your dad a lawnmower makes sense unlike sending him for a day at the spa. Your mum or sister will frown at the former but gladly accept the latter. Going for a vacation with kids sounds like a better proposition for men rather than getting them shiny toys for exclusive use.
Now that's the psychological discourse to set the foundation for making our prediction on the most thoughtful Christmas gifts for men in 2022.
Going for staples?
Psychology aside, this doesn't disqualify the fact that men have a Christmas wishlist. Sure, you can go around for the usual staples such as socks, wallets, and aftershave with a pleasant fragrance but these lack imagination. It's unoriginal and too pedestrian. Methinks, they even dull the Christmas cheer. I'm not trying to degrade your gift choice but rather offering the chance to be thoughtful for greater impact.
A general approach
Unlike the predictions currently in the market shepherding Christmas shopping towards a specific set of gifts, we provide a broader approach to facilitate room for compromise.
Obviously, gifting men this Christmas won't be much easier but our goal remains to offer a smoother and value-driven foundation. This inclusive and exhaustive list paves way for a fun-filled Christmas. Men actually mind despite words to the contrary. Our Christmas gift predictions bring out an aura of productivity, value, and creativity.
1. Personalised gifts
Under this category, we highly recommend the Leather Effect Embossed Notebook going for around $20 with a wide range of colours. If your special man enjoys handwritten notes, this notebook makes him stand out. You can personalise the notebook with his initials further showing the uniqueness of the gift.
Personalised gifts indicate exclusivity. Don't shy from sending the right message this Christmas. The value of a gift lies in its ability to offer value.
More personalised gifts can include bracelets, bags (highly consider Vintage Nuhide Holdall), and beer boxes. The onus lies in finding the perfect gift to complement his personality.
2. Wardrobe Gifts
Forget about socks and handkerchiefs, will you? Go for items close to his heart. For instance, the Neem overshirt priced at $30 oozes class and confidence. Additionally, the shirt maker offers its customers an opportunity to recycle their old clothes in an effort to reduce environmental conservation. That's a topic any decent human being should get behind.
Alternatively, go for exclusive brands such as Gucci and DIOR and get limited-sale leather jackets. Psychologically, men are highly competitive. Boost his ego this Christmas by getting him an outstanding gift.
3. Technology device gifts
Does your man enjoy gaming? Or watching football? Probably, each man utilizes technology at one point in their daily routine. Figure out what he's into and find an accompanying device to enrich the experience.
The new Apple iPad, 10.2", A13 Bionic Processor, iPadOS selling at $300 from John Lewis seems appropriate. It's trendy, affordable, and made to undertake numerous tasks. It comes with a 3-month free Apple Arcade for new subscribers. Let him explore the limitless video games, or improve productivity at the workplace.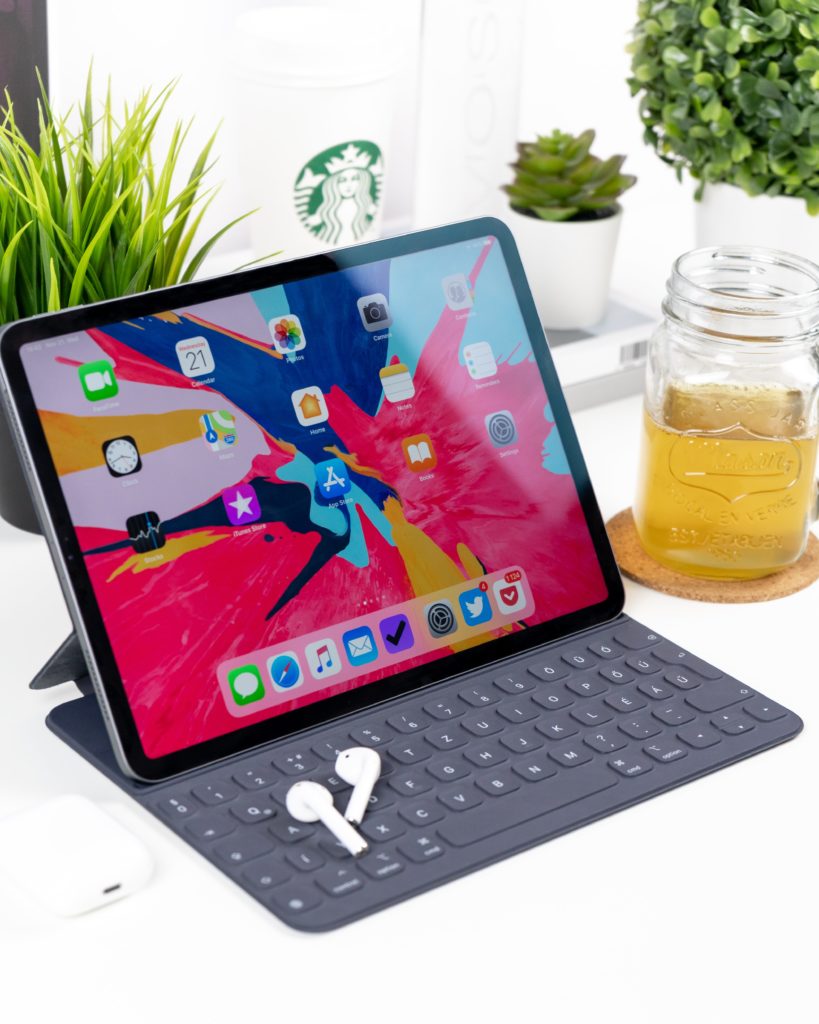 Technology devices are limitless. If on a budget, go for items such as shaving machines to communicate care. Amidst the growing inflation in the UK and beyond, prudent expenditure on Christmas gifts is a necessity. How about killing two birds with one stone?
Check out different catalogues from retailers to get the best prices.
4. Romantic Gifts
While growing up, our neighbourhood organized at least one Christmas wedding annually. It was an unspoken but observed rule. The lucky couple exchanged gifts, and one could almost taste the love in the air. If you grew up in such a neighbourhood, you understand the power of romance in gifting.
Honestly, on romantic Christmas gifts, we've no idea about the best approach. Let cupid guide you. Hopefully, you'll encounter a hand-painted couple portrait print along the way.
5. Unusual Gifts
It's the experience that counts. Perhaps, the thought too. If your man loves cars, take him for the Aston Martin Replica DB5 and V8 Vantage experience currently available at select UK locations for less than $100. Spend the time behind the wheel and reminisce about past battles while looking to future aspirations. As the air brushes against your cold faces, feel the Christmas breeze and flow with the moment.
Creep him with a wine dispenser accompanied by a disclaimer "Drinking Not Allowed" to chuckle him out whenever he uses it.
Under this category, the dynamics of your relationship can aid in determining the most unusual but treasured gift for him. Be brave.
Merry Christmas
Christmas gifts represent our shared belief in a better tomorrow. The seasonal greetings remind us of past triumphs and future uncertainties. For men, Christmas allows a respite, however minimal, from their natural instinct of taking care of others. Christmas gifts communicate our shared gratitude for each other, regardless of gender.
Worry not about getting the most expensive gift but rather focus on making this Christmas count. A better, happier, and lovelier memory spent with loved ones.
That's a Christmas gift any man would endorse!